Personal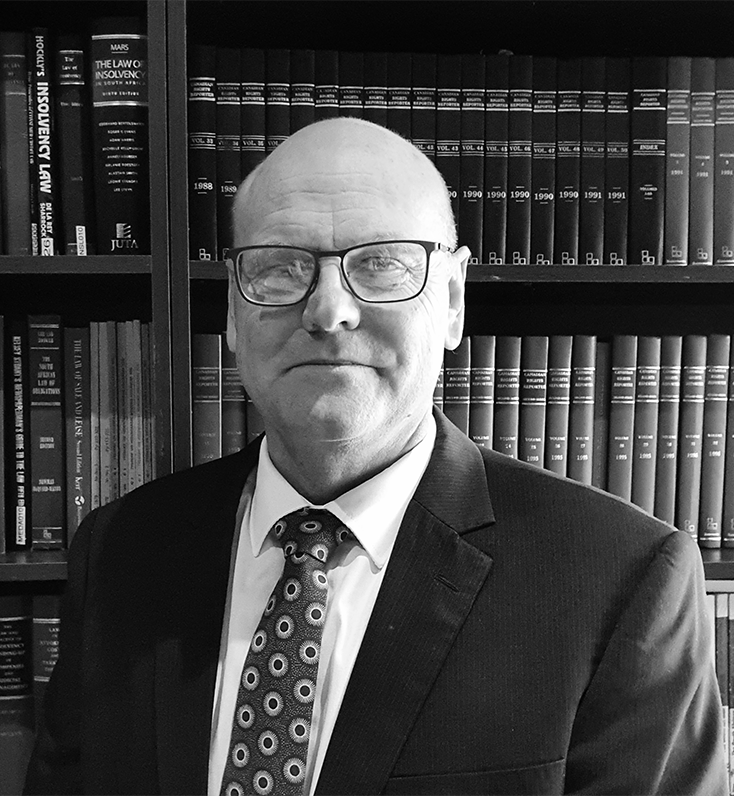 12 April 1962, Port Elizabeth
Married to Therese Boulle
Three children
Education
Matriculated at St Patrick's Marist Brothers College, Port Elizabeth
BA – University of Cape Town
LLB – University of Cape Town
Professional History
Articles of Clerkship, Brereton & Co, 1989
Advocate, Eastern Cape Bar, Port Elizabeth, 1990 - 1996
National Director Investigations Unit, Truth and Reconciliation Commission, 1996 - 1997
Advocate, Eastern Cape Bar, Port Elizabeth, 1998 - 2011
Served as an Acting Judge in the Eastern Cape Division of the High Court for periods during 2005, 2006, 2008, 2009, 2010, 2011
Acting Judge, Supreme Court of Appeal: 1 June 2020 - 30 November 2020; 1 December 2020 - 31 May 2021; 1 June - 30 September 2022.
Judge; Supreme Court of Appeal: 1 December 2022.
Publications, Awards, Honours and Other Activities
'Human Rights Litigation' in Introduction to Human Rights Law (2ed), A Govindjee (ed), 2016 LexisNexis
'Rights Activism as a Key to Transformative Jurisprudence' in South Africa's Constitution at 21, J Meiring (ed), 2017 Penguin Random House
'Ethics as a Driver of Transformation of the Legal Profession', SAJEJ, Vol 2, Issue 1, (2019)
'Covid 19 and the Courts: Justice in Lockdown' (2020) 33.2 Advocate 34 (August 2020)
Activities:
Instructor in Constitutional Litigation: LSSA Practical Legal School 1998 – 2005
Pupilage Coordinator (Eastern Cape) 2004 – 2006
Independent Trial Observer obo International Bar Association, Zimbabwe, 2006
Chairperson, Port Elizabeth Society of Advocates 2006 – 2008
Chairperson, Eastern Cape Society of Advocates 2007
Pupilage Coordinator for General Council of the Bar 2009 - 2011
Faculty Advisory Board for the Review of the LLB Curriculum, Nelson Mandela University 2009 – 2011
External Examiner in Constitutional and Administrative Law, Rhodes University, 1998 to present
Adjunct Professor in Public Law, Nelson Mandela University 2008 – to present
Member of the Faculty of Advocacy Trainers, General Council of the Bar
Mediation Training for South African Judges, Utah United States of America, October 2019 hosted by University of Utah and Brigham Young University
Webinar on Judicial Responses to Covid 19 Pandemic, hosted by Nelson Mandela University, May 2020
Access to Justice and Online Courts, panel hosted by Hans Seidel Foundation and UCT Democratic Governance and Rights Unit, April 2021
Instructor on SAJEI training seminars for judicial officers on Virtual Courts, Motion Court Procedure and Mediation – 2020, 2021 and 2022
The Future of Judicial Digital Transformation in Africa and Adoption of All Technology for Automated Judicial Decision Making, African Judges Panel During Africa Legal Innovation Week 2022, Hosted by The Lawyers Hub, Kenya, November 2022.